The eighth day of the Intakt Records Festival continues with another exciting double bill. Christoph Irniger Pilgrim begins, folowed by Aki Takase & Ingrid Laubrock
Christoph Irniger Pilgrim
The quintet Pilgrim, founded by Zurich based tenor saxophonist Christoph Irniger, has become over the years one of the most exciting ensembles in young European Jazz. After the group's well-received studio recording 'Italian Circus Story', Pilgrim – driven by their enthusiasm and inventiveness – has a new live album 'Big Wheel' for 2016. Recorded at concerts in Ratzeburg, Berlin and Altenburg, Pilgrim play with huge energy and plenty of room for spontaneity and improvisation, and make a impressively the way their music pulsates. Henning Bolte writes in the liner notes: "Pilgrim creates a deep field of sound with alternating foreground and background, full of echo effects, fading surfaces, frizzing lines, and swirls like falling leaves. This tonal richness is no self-sufficient affair, but time after time it emerges from unusual, surprising turning points and dynamic openings."
Aki Takase & Ingrid Laubrock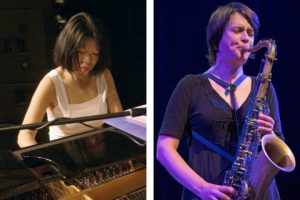 It was to be expected that, one day, these two musicians would find each other and work together. There are several years in age separating them, and yet they have many common traits. Aki Takase is one of the most brilliant pianists in jazz, familiar with the jazz tradition, as well as with the advanced procedures and processes of contemporary music, and has a wealth of experience and a substantial and impressive body of work to her name.
She made the bold move from Tokyo to Berlin, forsaking Japanese culture for the American-European musical world. Just as courageous, as individualistic as Takase, Ingrid Laubrock is another musician well-versed in jazz. Laubrock made her way from Germany where she grew up via London to Brooklyn. She is now active among the Brooklyn avant-garde. She plays music with nthony Braxton, Jason Moran, Stephan Crump and Corey Smithe. Takase and Laubrock appeared as a duo for the very first time at Jazzfest Berlin in November 2016. Their Vortex concert will be their second meeting.
INTAKT FESTIVAL
A festival celebrating one of the most imaginative record labels in Europe today. The artists on the label range from Barry Guy (who will be celebrating his 70th birthday in 2017), the best of NY Downtown, such as Ingrid Laubrock and Mary Halvorson, through the cream of European improvisation, including Irene Schweizer and Alexander von Schlippenbach, to the best of Swiss jazz, such as Lucas Niggli, Sarah Buechi and Andreas Schaerer.