Laura Jurd (Cornet) Elliot Galvin (Piano) Duo 8 April 2021 8pm
After cancelling all gigs in the Shape of Jazz to Come Series in 2020 due to Covid-19 the series re-opens with a fantastic duo that includes Laura Jurd and Elliot Galvin. The performance that was recorded at the Vortex Jazz Club will be streamed Thursday 8 April 8pm. Laura Jurd and Elliot Galvin have been making music together for over a decade, most notably as one half of the Mercury nominated band Dinosaur. Tonight they will be playing a set of original music written by both of them, in a rare duo setting.Together they form a formidable creative duo each bringing their own musical personality to both their compositions and playing. Both share a common in a background in classical music as well as jazz and are in their own element whether the work is composed or freely improvised.
For Black History Month: Echo in the Bones 31 October 2020
The second installment of a three-part work composed by Renell Shaw.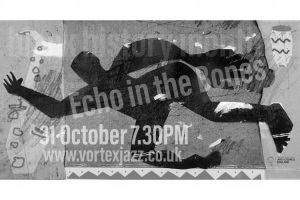 Music composed by Renell Shaw featuring Orphy Robinson MBE (Vibraphone, Marimba and Percussion), Cassie Kinoshi (saxophone), Samson Jatto (Drums), Sahra Gure (Vocals), Delycia Belgrave (Tap Dancing, Vocals), Afronaut Zu (Vocals), Charlie Laffer (Guitar), Mark Crown (Trumpet), Taurean Antoine-Chagar (Saxophone)
The Windrush Suite 22 June 2020
A suite of music composed and arranged by Renell Shaw. Supported by the PRSF.
Reviews
Jazzwise Review
London Jazz News Review
A J. Dehany
The Shape of Jazz To Come Dates:
2019
26th February   Ife Ogunjobi plus George Winstone Trio 8pm
27th March     Olly Chalk Trio plus Matt Sulzmann Trio 8pm
23 September  Joe Downard 8pm
28 October   Barnacles 8pm
21 November    Renell Shaw 8pm
 REVIEWS
Joe Downard Sextet – Seven Japanese Tales
(Vortex, 23 September 2019. Review by Dominic Williams)
This gig was part of The Shape of Jazz To Come, a Vortex programme supported by the Dave Holland – Evan Parker Fund.  It takes its title from the Ornette Coleman album which was a high water mark for free jazz. Although the programme does not always mirror Coleman's aesthetic precisely, it does showcase performers with a cross-genre and multi-media background – people who are breaking boundaries. More
Financial Times
Meg Morley Trio / Yana / Dub All Vision
Improvisations and impressionism at The Shape of Jazz to Come Festival 2018, London
(Vortex 19 September 2019. Review by Mike Hobart 21 December 2018)
It was ironic that the Vortex's two-day Shape of Jazz to Come festival included a farewell gig from the Yana trio. Vibraphonist Corey Mwamba, Dave Kane on bass and drummer Joshua Blackmore called time on their 10-year partnership with an uplifting set of through-improvised constructions that brought the opening night to a bittersweet high. A band as good as this really shouldn't be going their separate ways.
The second day of the festival presented two continuous electronica-driven sets by Orphy Robinson's Dub All Vision/Double Vision quartet. Voice-overs, samples and chunks of pre-recorded roots reggae acted as cue, spur and backing for a series of improvised set pieces. Bass guitarists Renell Shaw and Ricco Komolafe delivered a continuous undertow of funky riffs, twangs and grimy rumbles while Zuri added space-age keyboards and stripped-down expressionist piano. Robinson, orchestrating the evening from his laptop and keyboard, deconstructed a multitude of spoken-word samples into rhythmic loops and turned in a standout marimba solo in the second set. More
2018
24 April   Aubin Vanns Trio plus Michael Shrimpling Quartet 8pm
18 June   Elephant Talk (GUILDHALL), Wilbur Whitta Trio PLUS (RAM) Will Cleasby Band (TRINITY LABAN) 8.30pm
24 September      Forj plus Nima (Irini Arabatzi – vocals, Luca Manning – vocals, Seth Tackaberry – Bass, Sam Every – Drums/BVs)
23 October Ms Maurice 8.45pm
1st November TreeClimbers 8.30pm + Maria Chiara Argirò Quintet 9.45
11th November Chris Laurence Quartet  7.30pm
20th November Cassie Kinoshi's Seeds Ensemble 8pm
18th December Meg Morley Trio 8.30pm + Yana 9.45pm 
19th December Orphy Robinson's "Dub All Vision" 8pm
 The project
The Shape of Jazz To Come is a series of performances supported by the Dave Holland – Evan Parker Fund and hosted by the Vortex Jazz Club. Its mission is in line with the Vortex's mission of nurturing new and emerging talent although sometimes we mix old and new. Nevertheless the emphasis is always on quality and innovation.
For 25 years, the club has been serving as a platform for jazz, improvised and experimental music. The Vortex has been instrumental in the launch of up and coming artists' careers, such as Mercury-nominated bands including Polar Bear and Portico Quartet. Saxophonist Evan Parker who has had a monthly residency at the club for a number of years described the Vortex as 'my haven from the demands of the road… the Vortex is for me, a space to play "free jazz". I cannot imagine life without it'.  New York-based Holland has dropped into the club on a few occasions to take in the odd Evan Parker gig as well as to take in the unique Vortex vibe created by the musicians who perform here and volunteers who look after the place. Holland says '…the Vortex plays a vital role in the cultural life of London providing performance opportunities for both a UK and international community of musicians… its imaginative programming introduces new listening experiences to its audience'.
March 2 2018 two iconic musicians and old friends Dave Holland and Evan Parker joined forces in a fundraiser to show, as well as give their support to the Vortex Jazz Club – a fine institution that has help many a musician at the start of their career. The club has existed without any core funding after its establishment by founder David Mossman over twenty-five years ago.