*8PM START*
JOEL WATERS TRIO (first set)
Deschanel Gordon (piano)
Benjamin Crane (bass)
Joel Waters (drums)
PLUS
SAM NORRIS TRIO (second set)
Sam Norris (alto saxophone, melodica)
Will Sach (upright bass)
Boz Martin-Jones (drums)
Joel Waters Trio (Trinity)
Joel Waters is a Drummer, Guitarist and Educator originally from Bedfordshire, now living in South East London. He currently studies Jazz at Trinity Laban, and has studied under tutors Dave Wickins, Gene Calderazzo, James Maddren and Asaf Sirkis. Since moving to London, Joel has played at venues including Ronnie Scott's, Pizza Express and the 606 club, and is currently touring with singers, Mathilda Homer and Olivia Dean.
The Joel Waters Trio features Deschanel Gordon on piano and Benjamin Crane on bass. Playing original compositions and standards, they take influence from Ahmad Jamal, Mulgrew Miller, Emmet Cohen and Jacky Terrasson. One of the missions of the Joel Waters Trio is to expand the Jazz audience, deriving back to all styles of dance music from bebop and ragtime to RnB and Funk. With the consistent shift of genre, rhythm and harmony, the Joel Waters Trio aims for the audience's experience to be exciting, insightful and educational. Keep your eyes peeled for the trios first EP release September 2020.
Deschanel Gordon is currently gigging and touring with SEED Ensemble, Moses Boyd and Mark Kavuma. Benjamin Crane is a key member of emerging South East London band 'PYJÆN'.
Sam Norris Trio (Royal Academy of Music/ Guildhall School of Music)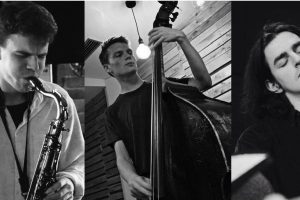 The Sam Norris Trio are a new, exciting contemporary jazz ensemble made up of students and alumni of the Royal Academy of Music and The Guildhall School of Music. Led by alto saxophonist Sam Norris (Dino Massa, Planck Walker), they aim to push the boundaries of improvised music while keeping a foot firmly planted in the jazz tradition, drawing on influences as diverse as Lennie Tristano, John Coltrane, Ornette Coleman and Maurice Ravel. Their broad musical palette and strong ensemble chemistry allow their music to venture in almost any direction, from burning swing to tender ballads to roaring free jazz, resulting in a band sound which is deeply exploratory and truly unique. With NYC-born bassist Will Sach (James Allsopp, Geoff Simkins) and drummer Boz Martin-Jones (Gareth Lockrane, Elftet) completing the line-up, the trio will work through thought-provoking originals as well as tunes by some of their favourite composers.
The Shape of Jazz To Come Series is Supported by the Dave Holland – Evan Parker Fund