Supported by The Dave Holland – Evan Parker Fund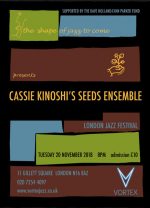 Formed in early 2016,  SEED Ensemble is a ten-piece band led by alto saxophonist and composer Cassie Kinoshi.
The project presents a stellar line-up featuring some of London's most up-and-coming young jazz musicians including tuba player Theon Cross and tenor saxophonist Chelsea Carmichael. Combining jazz with inner-city London, West African and Caribbean influenced groove, SEED explores a blend of genres through both original compositions and arrangements.
" The richness of the band's melody, harmony and solo is something we can attest to and that got the crowd going. Band members cut across race and gender; and original compositions are inspired by the social issues of our times. So a night of music by the people for the people about the people? We like " – www.sqwzl.com