Huw Vaughan Williams – Bass
Devin Gray – Drums
George Crowley – Saxophone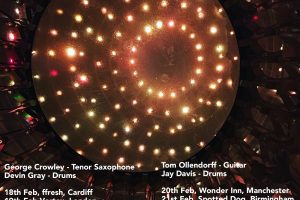 HUW VAUGHAN WILLIAMS
Winner of the 2012 Yamaha Jazz Scholars Prize from The Royal Welsh College of Music and Drama, Huw draws on a rich combination of his Welsh roots, his training in Jazz and the contemporary creative music scenes in London, Brooklyn and Manhattan. His latest album was selected as a CD of 2016 by John Fordham of the Guardian.
"I really like the idea of music coming from the mixing pot of all your history, so this is just as much about a teenage rock phase in North Wales as a mid twenties Free Jazz phase in London."
With a fast growing CV lit up by the names of some of his heroes including Jim Black, Michael Blake, Jason Rebello, Neil Yates and long time mentor Huw Warren, Huw V Williams is building a beautiful bass filled world of free music and primal creativity.

DEVIN GRAY
An artist interested in multiple musical directions and one who strives for quality and sincerity in his work. His exciting energy has compelled him towards many different musical directions and projects. Considered by his contemporaries as cutting edge, Gray shows promise as an artist that will not only move the music forward, but one who will share his unique musical vision with the world of music.
Devin Gray's fresh approach to modern drumming has enabled him to play with many of America's great jazz musicians. He has performed and recorded with innovative musicians of contrasting styles and backgrounds such as: David Liebman, Tony Malaby, Gary Thomas, Ingrid Jensen, Dave Burrell, Dave Ballou, Michael Formanek, Nate Wooley, Stephan Crump, George Garzone, Chris Speed, Drew Gress, Sam Rivers, Ralph Alessi, John O'Gallagher, Ellery Eskelin, Kris Davis, Ted Rosenthal, Matt Mitchell, Uri Caine, Andrew D'Angelo, Vardan Ovsepian, Bill McHenry as well as many others.

GEORGE CROWLEY
George Crowley is one of the most prominent new voices among the sea of burgeoning creative musicians living in London, England. A performer who is equally adept at both saxophone and clarinet, he is instantly recognizable by his expressively direct tone and infectious improvisations. Moreover, Crowley is increasingly recognized by fellow musicians and critics alike for his strong gifts in composition, which carry the fine quality of equally marrying both mind and heart while providing ample yet surprising room for his improvising bandmates.