The eleventh day of the Intakt Records Festival continues with another exciting double bill Sylvie Courvoisier (piano) & Mark Feldman (violin), followed by Pierre Favre Drumsights.

SYLVIE COURVOISIER – MARK FELDMAN
Sylvie Courvoisier: Piano
Mark Feldman: Violine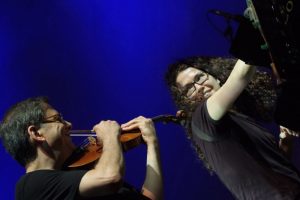 Sylvie Courvoisier, originally from Lausanne, moved to Brooklyn in 1998 and is now as completely at home in America as she is in Europe. Her music-making and her composition reflect neoclassical influences, and she also combines the European improv tradition with the no-holds-barred approach of the New York downtown scene based around John Zorn. Mark Feldman is a musician whose multi-faceted nature is not dissimilar to Courvoisier's. He is a composer and improviser with outlook on the world can come from a whole variety of different perspectives.
The duo remains the central focal point of their many diverse activities, the most condensed form of what they do, and also the greatest test of their mettle. "They manage to shine a light on pure emotion", writes Bert Noglik in the liner notes of the CD "Live at Théâtre Vidy-Lausanne". "The music there in the room seemed to be about longing. It was immediate, very much of the here and now, but full of the desire to recapture what has passed, and to imagine what will be."
PIERRE FAVRE DRUMSIGHTS
Pierre Favre: Drums
Valeria Zangger: Drums
Markus Lauterburg: Drums
Chris Jaeger: Drums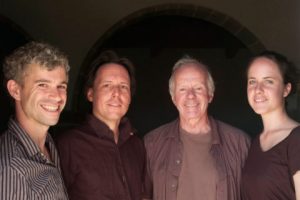 The percussionist as a poet; the drummer in the role of a painter of soundscapes; the composer who has a convincing story to tell. Pierre Favre's first percussion ensemble was called "Singing Drums", a band-name which sets out its stall clearly: the search for a 'voice' for drums. Hardly any other drummers have made drumming and percussion ensembles such a permanent part of their musical activity as Pierre Favre. It was in this context that he has extended the sound palette of the drum kit – listen out for everything from rudimentals deployed in a virtuoso way to wonderfully woven and wafted textures.
Pierre Favre worked on this repertoire with his ensemble – Chris Jaeger, Valeria Zangger and Markus Lauterburg. three of the most excting young Swiss players – for the past five years. Although most of the pieces are written compositions, they now play them all by heart, and leave plenty of room for improvisation. Pierre Favre says: "We always play the most complex and edgy sections with a smile."