The third day of the Intakt Records Festival continues with another stunning double bill. Irene Schweizer & Louis Moholo-Moholo followed by Omri Ziegele's 'Where's Africa?'
Irene Schweizer (piano), Louis Moholo-Moholo (drums);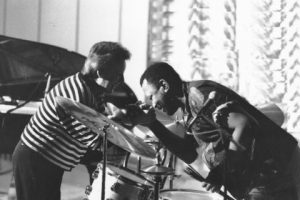 Drummer Louis Moholo Moholo and pianist Irène Schweizer have been friends since the early 1960's. At that time the South African drummer was a member of the Blue Notes, the band of exiles led by the pianist Chris McGregor who had guest residencies at the Jazzcafe Africana in Zurich. It was there that the young pianist got to know South African music, and their brand of jazz influenced by township and kwela. This influence was formative for Schweizer and has stayed with her ever since.
One of the most extraordinary musical documents emerged from the 1986 Zurich Jazz Festival, which was presenting South African musicians as its main programming strand. The concert by Irène Schweizer and Louis Moholo morphed into an aesthetic and a political protest against apartheid in South Africa, and also against the banks, and Zurich as a financial centre, which was colluding actively with the apartheid regime.
Omri Ziegele's 'Where's Africa?'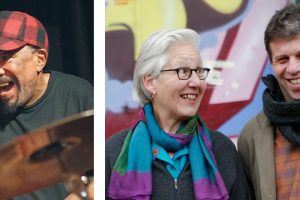 Omri Ziegele is one of the leading figures on the Zurich jazz scene, not just as saxophonist, band-leader and composer, but also as a promoter and a brilliant connector. For more than two decades he has led the Zurich-based octet Billiger Bauer (meaning 'cheap farmer') and played in his trio Noisy Minority with Ray Anderson. He also has a trio with Christian Weber and Han Bennink, and works with the younger generation of Zurich musicians.
At the end of the 1990's he used to play regularly in a duo with the pianist Irène Schweizer – she is two generations older than him – in the Cafe Casablanca in Zurich, where they would perform pieces from her core repertoire. The result of that collaboration was a fabulous duo CD entitled "Where is Africa". In the interveining years, the duo has expanded into a trio through the involvement of the Basle-based South African drummer Makaya Ntshoko, which has led the group increasingly in the direction of the music of Ntshoko's homeland, and the rich repertoire of compositions by Johnny Dyani, Dudu Pukwana, Dollar Brand. It is a particular pleasure therefore to bring into being this London encounter of the Ziegele-Schweizer duo with the great Louis Moholo Moholo.
INTAKT FESTIVAL
A festival celebrating one of the most imaginative record labels in Europe today. The artists on the label range from Barry Guy (who will be celebrating his 70th birthday in 2017), the best of NY Downtown, such as Ingrid Laubrock and Mary Halvorson, through the cream of European improvisation, including Irene Schweizer and Alexander von Schlippenbach, to the best of Swiss jazz, such as Lucas Niggli, Sarah Buechi and Andreas Schaerer.