The fifth day of the Intakt Records Festival continues with another fantastic double bills. To begin Alexander Von Schlippenbach plays Monk followed by Omri Ziegele, John Edwards & Mark Sanders
Schlippenbach plays Monk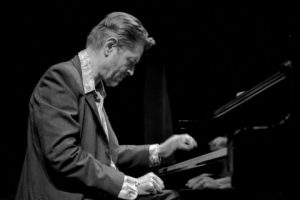 Nobody plays Monk like Schlippenbach. In the same way that Monk would work away at a composition for several weeks, Schlippenbach has involved himself with Monk's work for many years, listening, analysing, playing, all with the greatest conceivable respect. The 3 CD-set in which Alexander von Schlippenbach and the band 'Die Enttäuschung' recorded Thelonious Monk's complete works constitute a most impressive testament to this deep involvement in Monk's music.
For his solo program Alexander von Schlippenbach chooses some of his favourites from the Monk canon, including some of the more rarely performed pieces. For him it was not about arranging, re-harmonising or consciously changing the original forms of Monk's compositions, because the themes themselves are so multifaceted and complex. Rather, it was Alexander von Schlippenbach's first and foremost concern to keep very close to these themes and to concentrate his focus on a free interpretation of the melodies, with their rhythmic twists and turns. Schlippenbach also likes to play his own compositions.
Omri Ziegele – John Edwards – Mark Sanders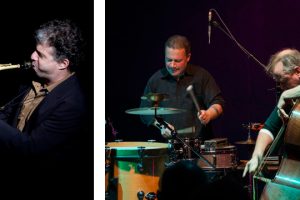 Omri Ziegele's favourite format is the pianoless saxophone trio. It has freedom and the capacity to spring sudden surprises. There is an openness and roughness about it, it thrives on being unrefined and creatively unstable. There are also all of the manifold possibilities for the drums to suddenly explode, which makes them such a dominant presence in the trio. The Zurich saxophonist Ziegele is a devotee playing in saxophone trios; in fact he has quite a few projects with the same instrumentation.