The ninth day of the Intakt Records Festival continues with another exciting double bill. Stefan Aeby Trio begin, folowed by Aki Takase & Rudi Mahall
Stefan Aeby Trio
The Swiss pianist Stefan Aeby is one of the most in-demand young Swiss jazz musicians. He has already appeared in the Intakt festival at the Vortex in Sarah Buechi's band and also as part of Christoph Irniger's Pilgrim. With his band-mates and good friends André Pousaz (bass) and Michi Stulz (drums) he now presents his own trio.
Aki Takase & Rudi Mahall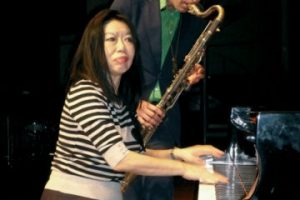 Aki Takase and Rudi Mahall share a special affinity and enjoy working together. As music critic Ulrich Olshausen wrote about their Duo CD "Evergreen": "They share a common knowledge of the whole of jazz history and their refined craft, but these are arguably not the most important things. Where Takase and Mahall find a completely unified approach is the way they jointly keep the ever-present urge to break for freedom in check. They also have a very specific and shared sense of humour, a shared outlook that, maybe, life should be approached as seriously, and yet also as lightly as possible.
INTAKT FESTIVAL
A festival celebrating one of the most imaginative record labels in Europe today. The artists on the label range from Barry Guy (who will be celebrating his 70th birthday in 2017), the best of NY Downtown, such as Ingrid Laubrock and Mary Halvorson, through the cream of European improvisation, including Irene Schweizer and Alexander von Schlippenbach, to the best of Swiss jazz, such as Lucas Niggli, Sarah Buechi and Andreas Schaerer.