Pigfoot is Chris Batchelor (trumpet), Liam Noble (piano), James Allsopp (baritone sax), Paul Clarvis (drums). Always fun, always alternative – a great way to enjoy Saturday night
Pigfoot burst onto the London scene in 2013 with their highly original take on New Orleans jazz '21st Century Acid Trad', recorded live at the Vortex. At their ongoing 'Pigfoot Play' residency they have been extending their repertoire in all directions, with gigs dedicated to Opera, Motown, Elvis, Bacharach and the music of 1972, all spontaneously transformed by the band's wild musicality and wry humour.
Tonight they will invite the audience to choose each piece from the hat, in which Wagner will be rubbing shoulders with Bessie Smith, Lieber & Stoller, Smokey Robinson, Richard Strauss, Stevie Wonder, Puccini and Led Zeppelin. Expect the unexpected.
"Oh deep joy; something completely different to refresh the jaded critic's palette……Pigfoot don't parody the music – they simply have the virtuosity to take it outside itself, somewhat precariously, and then bring it home safe."
Garry Booth Jazz Journal
"..stunning in their originality and almost anarchically gleeful sense of fun. Pigfoot reminded us that this music was once raucously subversive and intensely joyous."
Matthew Wright – londonjazznews.com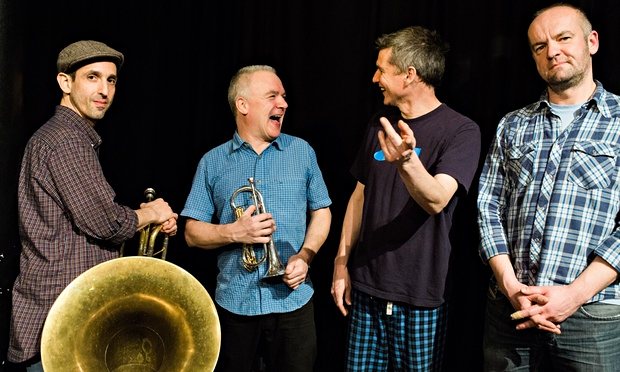 From the latest Jazzwise: