This Arts Council-funded Triple Bill UK tour comprises three exciting and original bands from Norwich. Each performance is a musical journey from bright, spare, sometimes stark, structures through some abstraction and complexity and on to a joyful celebration; the art of improvisation in the making of music influenced by all kinds of genres.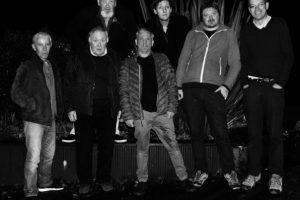 The Brass Monkeys, a brassy septet, blow an exciting mix of original material and classics, offering a reverent but iconoclastic take on the history of musical improvisation. Chris Dowding and Hugh Stanners trumpets and flugelhorns, Dave Amis, and Pip Cartwright – trombones, Simon Youngman – tenor sax, Ben Higham – tuba and flugelhorn, Geoff Charlton – drums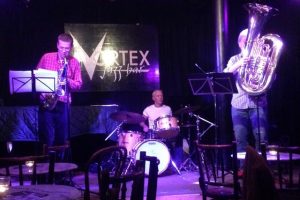 Arthur, an alto sax, tuba and drums trio, examines these particular sound colours and the opportunity for invention. Simon Youngman – alto sax, Ben Higham – tuba, Geoff Charlton – drums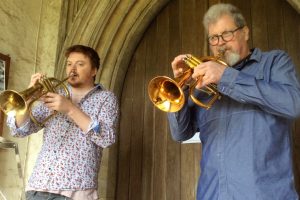 some things, a brass duo, celebrate the spatial potential of two voices. Chris Dowding, Ben Higham – trumpets and flugelhorns
Developing from a loose collective these musicians have worked together in different combinations over the last three decades or so. Many have also performed and collaborated with a wide range of notable musicians including Harry Beckett, Mel Davis, Paul Jolly, Louis Moholo-Moholo, Maggie Nicols, Courtney Pine, Julian Siegel, John Stevens, Alan Stuart, Keith Tippett, and Annie Whitehead.