The Windrush Suite 22 June 2020  8PM
Watch on Youtube or on our Facebook page
In time to mark the occasion of National Windrush Day we present a new body of work by composer and arranger Renell Shaw, supported by the PRS for Music Foundation, in association with The Vortex Jazz Club/The Shape of Jazz to Come. The four suite pieces are inspired by the men, women and children, who latterly became known as the 'Windrush Generation'. The music pays homage to the complex origins of the people: Their lives 'away'.  Their longings, loves, disappointments, and will to survive. Being at home but not home. We celebrate the contributions of this vibrant community to the cultural and social life of Britain. The rich diasporic musical traditions of the Caribbean finds a contemporary expression in the work, as well as a new home in a new melting pot of bubbling creativity.
The Windrush Suite will be available to buy on the Vortex Bandcamp following the performance. 100% of the profits will go towards supporting the Vortex and helping keep jazz music alive.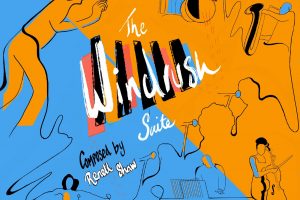 Help us keep bringing more live streams and ensure the Vortex can open its door again: DONATE
The Windrush Suite Musicians
Renell Shaw (Compositions and Arrangements, Piano, Guitar, Bass, Percussion, Vocals)
Songwriter, composer, arranger and music producer. Wearing his composer and arranger hat Shaw has worked within the creative worlds of film and theatre as well as for organisations such as Google, Barclays, BBC, and orchestral giants such as London Symphony Orchestra & London Philharmonic Orchestra. He has collaborated both as composer, and multi-instrumenatlist with the band Rudimental, and recorded and toured alongside artists that include Orphy Robinson (MBE), Jess Glynne, Anne-Marie, Skepta, Nitin Sawhney (CBE), Maverick Sabre, DJ Spinal, Aloe Blacc, Speech Debelle, MORGAN and Carleen Anderson. Shaw is also one half of the production-duo 2fox.
Orphy Robinson MBE (Vibes, Marimba)
Robinson is an award-winning multi-Instrumentalist and one of the few UK musicians to have been signed to the legendary Blue Note record label. Winner of the 2017 Jazz fm Awards for "Live Performance of the year' for his Bobby Hutcherson Songbook project. Robinson is an acclaimed soloist who works across a variety of musical forms – jazz, free jazz, free improvisation, jazz fusion and funk music.
Ayanna Witter-Johnson (Cello)
Witter-Johnson a singer, songwriter, cellist and composer who graduated from theTrinity Laban Conservatoire of Music and Dance, and Manhattan School of Music. Navigating the seemly opposing worlds of classical and contemporary music she has toured with Anoushka Shankar and Courtney Pine, recorded with Akala, and composed for the London Symphony Orchestra. As well as winning the acclaimed amateur night at the Apollo Theatre in Harlem.
Samson Jatto (Drums)
Samson Jatto is a versatile drummer with notable Hip-Hop and Soul influences. His experience spans over a decade having been unwittingly introduced to the instrument at the age of 13. He plays and tours with some of the very best mainstream artists including: Maverick Sabre, Jessie Ware and Mahalia.
Taurean Antoine-Chagar (Saxophones)
Antoine-Chagar is a composer, multi-instrumentalist and music producer, as well as the co-founder of Football Beyond Borders. Whilst touring and recording with Rudimental, he has also composed music for theatre, TV and film. Most notably writing music for Nikes 'Real People Do Real Things' advertising campaign. He is also the saxophonist on Jord's new LP  'AAA' and 2fox's single 'Problem ft. Afronaut Zu'.
Nandi (Lead vocals)
Zimbabwean born Nandi's dynamic and graceful voice has contributed to the work of artists such as Jack Bruce (CREAM), Emeli Sande, NAO, Maverick Sabre, Orphy Robinson and Cormega. In 2018 Nandi appeared on ITV's The Voice, mentored by Black Eye Peas' Will.i.am and Sir Tom Jones. Nandi's debut solo single Your Love  is due for release this year.
Delycia Belgrave (Vocals, tap dancing)
Delycia Belgrave is a successful musical theatre performer and choreographer.
Theatre credits include, White Christmas, Guys and Dolls, Legally Blonde, Mamma Mia!
Dave Holland (Introduction to the event)
Kevin Le Gendre (commentary)
Coco Shaw (Film visuals and editing)
Kathianne Hingwan (Artistic producer for the project)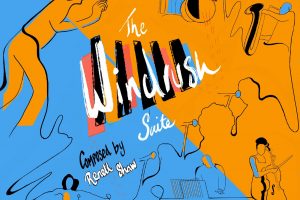 The Windrush Suite, available to buy on the Vortex on Bandcamp  22nd June 2020.