Always a pleasure to have perform at the Vortex, Tony's mesmerising style and natural flair give pleasure and joy to us all.
The origins of the Organisation go back a over a decade and grew from Simon Fernsby's memorable 'Manhattan Project' sessions which were a staple of jazz in South London throughout the 2000s. Drummer Pete Cater was an early recruit having been a jazz tutor on Fernsby's music college course. The band went through several incarnations and with the addition of organist Pete Whittaker honed its no-nonsense, hard-hitting style as the house rhythm section in multiple venues, festivals and residencies. Throughout this time they worked with many of London's leading jazz musicians but in spite of associations with several distinguished players did not become a regular quartet until a serendipitous meeting with saxophonist Tony Kofi in August 2010. This association with Tony was the result of a last minute dep at Kent jazz institution the Eagle Tavern, Tony fresh from recording with Ornette Coleman in New York. Playing both alto and baritone on the date there was an instant affinity between the players, the Organisation's combination of both the Bluesy soul jazz side the Hammond canon, and their knowledge of the more modern post bop side of the repertoire (as typified by Woody Shaw's "Moontrane") working perfectly with Tony's approach. It is to the credit of all the musicians that they have played a long game, developing their craft and style on the UK jazz circuit and the sounds you will hear are the sounds of a band who have put the hours in and held an ace in their collective hand until the moment to play it was just right.
"A killer band with real bite" Mark Youll Jazzwise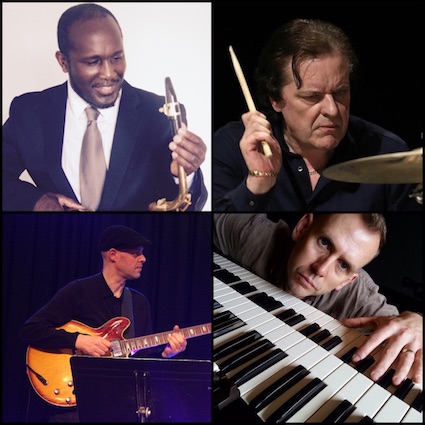 TONY KOFI
Winner of the 2008 BBC Jazz Awards for Best instrumentalist, the playing career of
saxophonist Tony Kofi began when he chanced upon a series of jazz workshops, run in
Leicester by Nick Hislam. He won a scholarship to study at the legendary Berklee College
of Music in Boston Massachusetts,His fluent and fiery hard-bop style makes him
constantly in demand. He currently leads his own Tony Kofi Quartet, Tony Kofi Sphinx Trio,
Future Passed Trio and is also the co-founder with Jonathan Gee of the Monk Liberation
Front, a group that is dedicated to the music of Thelonious Monk. Tony's latest project
sees him performing with Alex Webb's Café Society Swing, Arnie Somogyi's Jump Monk,
Larry Bartley's JustUS Quartet, Adrian Reid Quartet, a double leaders project with Alan
Barnes called Aggregation, Orphy Robinson's Bobby Hutcherson songbook project, Alina
Bzhezhinska Quartet, Jo Harrop's Fever, Portrait of Cannonball (Music dedicated to
Cannonball Adderley)
Pete Whittaker (Hammond Organ)
London-based jazz organist Pete Whittaker became fascinated with the Hammond organ
after hearing the classic 1960s jazz recordings by the likes of Jimmy Smith, Richard
"Groove" Holmes, and Jack McDuff. After a few years touring the western world with rock
bands, Pete has in recent times been involved with several jazz projects including UK
saxophonist Theo Travis' "Double Talk" and guitarist John Etheridge's "Blue Spirits". Pete
is also regular member of the Nigel Price Organ Trio.
Pete Cater (Drums)
'A gifted and versatile drummer, at home in any context'
(Rough Guide to Jazz)
Pete Cater is a natural self-taught drummer who has been playing since infancy. Although
his 30 plus year professional career has encompassed almost the entire musical
spectrum, it is his work as a big band drummer and leader that has secured his worldwide
reputation.
Pete first formed his own big band when still in his teens and of more recent years the
Pete Cater Big Band has released three highly acclaimed Cds, broadcast on Radio 3,
appeared at major jazz festivals across the UK,
and they are doing an ongoing UK wide series of concerts commemorating the music of
the late, great Buddy Rich. Pete's big band expertise sees him in regular demand with a
variety of large ensembles including the BBC big Band and the Back to Basie Orchestra.
In addition Pete has worked with many international jazz stars in small band settings
including Arturo Sandoval, Charlie Byrd, Benny Carter, Buddy De Franco, Terry Gibbs, Al
Cohn and currently works regularly with the legendary singer/pianist Buddy Greco.
Pete remains in demand as a freelance player and educator with special emphasis on
jazz and improvisation.
Simon Fernsby(Guitar)
Simon moved to London in the early 80's. Initially working on the the rock and pop scene
he has toured extensively in th UK, Europe, Scandanavia the former Yugoslavia, the US
Canada and Japan. Headlining such prestigious venues as The Royal Abert Hall, the
Forum, Paris Olympia, the Whiskey a go go and the Universal Amphitheatre Los Angeles.
Having also worked for EMI publishing, Phonogram RCA and Rough Trade his TV and
Radio credits include The John Peel Show, Top of the Pops BBC 2's Late Show Channel
4's the Word and BBC4's Kalaidascope.
After briefly studying with Dave Cliff he has worked with Brighton organist Dave Windross
Soul jazz legaend Gary Baldwin, Roger Beaujolais, Sam Gambarini and Gareth Lockrane.
With the Organisation he has worked with Bob Martin, Steve Fishwick, Jim Hart, Alex
Garnett nad Dave O'Higgins amongst others. As part of the "7% Solution" Septet they
haev performed at Ealing Jazz Festival.