An evening of live music influenced by the Jazz genre.
Jazz Inc brings together a community of experienced artists, with leading Bass player Paul Westwood and his band in the driving seat, this event promises to be an eclectic mix of jazz improvisation, fusion and more!!
Line-up

Paul Westwood (bass guitar)
Rob Hervais-Adelman (drums / percussion)

Mike Scott- Harding/Singer /Songwriter
Paul Westwood's Jazz Fx
Paul Westwood's Jazz FX features bass guitarist Paul Westwood and percussionist Rob Hervais-Adelman playing a style of music that includes creative themes, powerful moods, and distinctive performances. The group is particularly influenced by jazz, blues, rock, funk, Latin and world music.
                                            Paul Westwood / Bass Guitar
Paul Westwood is 'one of the most in-demand bass players of our time' (Mel Bay). He has worked with a range of well-known musicians such as David Bowie, Elton John, George Michael, George Benson, Jose Carreras, Hot Chocolate, Al Jarreau, Janet Jackson, Tom Jones, Justin Hayward, Nik Kershaw, Peter Green, Andrew Lloyd Webber, Madonna, Luciano Pavarotti, Vangelis, Wayne Shorter, Hans Zimmer. His success has made him one of the most sought-after session musicians of the London music scene.
Rob Hervais-Adelman / Percussionist and Drummer
Rob grew up in South London and studied drum kit and percussion at Trinity Laban Conservatoire of Music and D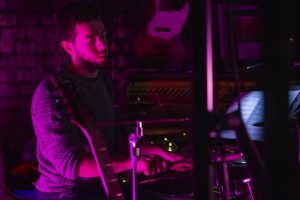 ance. He has worked with artists and bands including James Arthur, Lighthouse Family, Wendy James (Transvision Vamp), Isabella Summers (Florence And The Machine), Diane Charlemagne (Goldie, Netsky, S.P.Y), London Contemporary Voices, Dionne Bennett (Slowly Rolling Camera), and Mullaha. Rob has performed internationally and in UK venues including the Royal Festival Hall, The Southbank Centre, The Jazz Café, The Union Chapel, and festivals including Wilderness, Boomtown, Bestival, Shambala, and Hop Farm.
Mike Scott- Harding/Singer /Songwriter
Mike has performed as a session-singer, both live and in the studio, for Brazilian-fusion outfit Da Lata, and for Doo-wop harmony group, The Extraordinaires (including on Northern Ireland's 'Late, late show', and 'Viva Las Vegas Rockabilly Weekend' festival, Las Vegas. As the leader of Soul/Motown group The Tops, Mike has performed on many elite-line cruise ships for several top companies (including P&O, Royal Caribbean, SAGA and Celebrity) throughout Europe, the Caribbean, Mexico, and Australasia.