The Vortex is delighted to present a London Jazz Orchestra Grand Benefit for the Club with acclaimed singer Norma Winstone. The Vortex – LJO relationship is one that has endured for over 25 years in which the LJO has played a monthly gig at the club, performing new music written by the band while performed by a collection of London's finest jazz musicans, and led by the formidable composer and conductor – Scott Stroman.
This benefit gig consists of two sets. Each set must be paid for separately. There is no members discount or concession rate for this gig. We thank Norma, Scott and the LJO in advance for helping us to keep the Vortex going.
FIRST SET 7.30 PM – 8.45 PM (DOORS 7pm)
SECOND SET 9.15 PM – 10.30 PM (DOORS 9PM)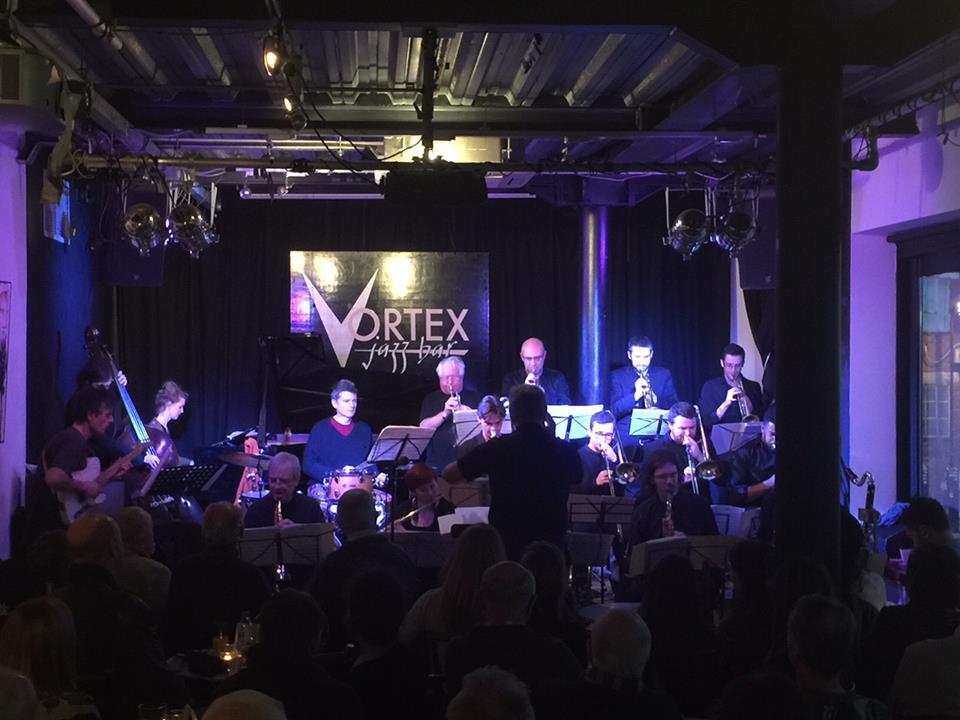 Trumpets: Noel Langley, Henry Lowther, Robbie Robson, Jim Davidson
Saxes: Martin Speake, Martin Hathaway, Pete Hurt, Josephine Davies, Mick Foster
Trombones: Martin Gladdish, Patrick Hayes, Tom Dunnett, Richard Henry
Rhythm: Alcyona Mick, Stuart Hall, Alec Dankworth, Paul Clarvis
 Norma Winstone, one of Europe's most acclaimed singers, joins the outstanding soloists of the London Jazz Orchestra and director Scott Stroman for a grand benefit to raise funds for the Vortex Club. Norma and the LJO are a natural fit–they performed together regularly at the old club, and will be presenting both new music created for the occasion and favourites from past collaborations.
Norma has been at the forefront of her craft since the late 60s, performing and recording with a host of artists including Roland Kirk, Mike Westbrook, Michael Garrick, John Surman, Kenny Wheeler, Mike Gibbs, John Taylor and the LJO Her current group, Grammy-nominated for their ECM recording, features Italian pianist Glauco Venier and German saxophonist/ bass clarinetist Klaus Gesing, and she is a member of Nikki Iles' group "The Printmakers".
Since 1991 the Vortex Club has provided a home for the LJO; it presents the monthly "LJO Vortex Sessions" and rehearses and records at the club. Kenny Wheeler, John Taylor, Ian Carr, Stan Sulzmann and Pete Saberton all were all members; still today directed by Scott Stroman, the band features Noel Langley, Henry Lowther, Martin Speake, Alec Dankworth, Paul Clarvis, Alcyona Mick and a host of top soloists.
Norma and the LJO are donating all proceeds toward keeping the Vortex alive and thriving.