Alan Wilkinson(reeds)/Pat Thomas (kbds)/John Edwards(bass)/Paul Hession(drums)
This amazing first time quartet brings together long-time associates saxophonist Alan Wilkinson and drummer Paul Hession for an increasingly rare performance alongside two of the finest improvisers to be found anywhere in bassist John Edwards and Keyboardist Pat Thomas.
Alan Wilkinson was a formative part of the Leeds experimental music scene in the 80s, founding the Termite Club and as part of the ferocious Hession/Wilkinson/Fell trio. Since relocating to London in 1990 he has continued to play and promote the music and remains one of the most powerful saxophone voices around today, recently adding bass clarinet to his usual Alto and Baritone. He has played with Derek Bailey, Peter Brötzmann, Chris Corsano, Akira Sakata, Thurston Moore, Spiritualized and many others, and is currently active with his Norwegian quartet Akode, Wilkinson/Edwards/Noble, amongst many other projects.
Paul Hession's career started in the working mens clubs in and around Leeds before developing into one of the most formidable and distinctive drumming voices working in Britain today. Along with Wilkinson he helped create the Leeds improvised music scene in the 1980s and over many years has played with Paul Rutherford, Derek Bailey, Peter Brötzmann, Joe McPhee, Lol Coxhill, Borah Bergmann, Frode Gjerstad, Marshall Allen, and many more.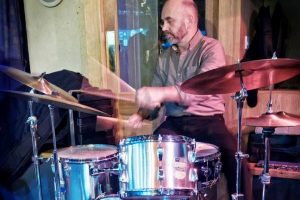 Pat Thomas is an Oxford based piano and electronics player renowned and revered not only for his undoubted musicality but also for his astounding inventiveness as an improviser. Often seen these days in his genre bending and collaborative duo Black Top, with Orphy Robinson, his long career has encompassed working relationships with the likes of Lol Coxhill, Tony Oxley, Derek Bailey, Eugene Chadbourne and About Group to name a few.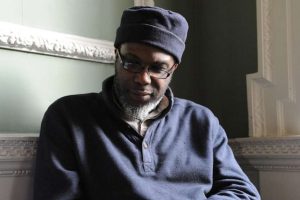 John Edwards is a true virtuoso whose staggering range of techniques and boundless musical imagination have redefined the possibility of the double bass and dramatically expanded its role, whether playing solo or with others. Perpetually in demand, he has played with Evan Parker, Sunny Murray, Derek Bailey, Joe McPhee, Lol Coxhill, Peter Brötzmann, Mulatu Astatke and many others.
"I think John Edwards is absolutely remarkable: there's never been anything like him before, anywhere in jazz." – Richard Williams, The Blue Moment.