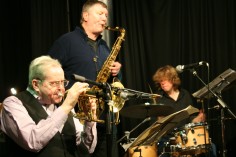 We were fortunate that Kenny played regularly at the club, both in Church Street and in Dalston; and in various formats, up to including big band, as well as with his London quintet, including Chris Laurence and co., and with Evan Parker on a few occasions. He guested with many musicians on several occasions and we would sometimes see him sitting focussed on the music with Doreen and his family. He kindly played at a benefit for the Vortex when we were closed to help support our move to Dalston.
Meanwhile, it is impossible to count the number of times that his music has been played at the club in different contexts – by teenagers, up to some of his lifelong musical companions, such as John Taylor, Norma Winstone and Chris Laurence. Probably nearly every musician who plays at the Vortex has a bit of Kenny in there, implicitly or explicitly.
Kenny helped define trumpet playing, composing and arranging.
Here is a trio version of Kind Folk with Andrea di Biase and Liam Noble recorded in 2011.http://youtu.be/UOEjmBNddjY
(Image from Dalstonsound)