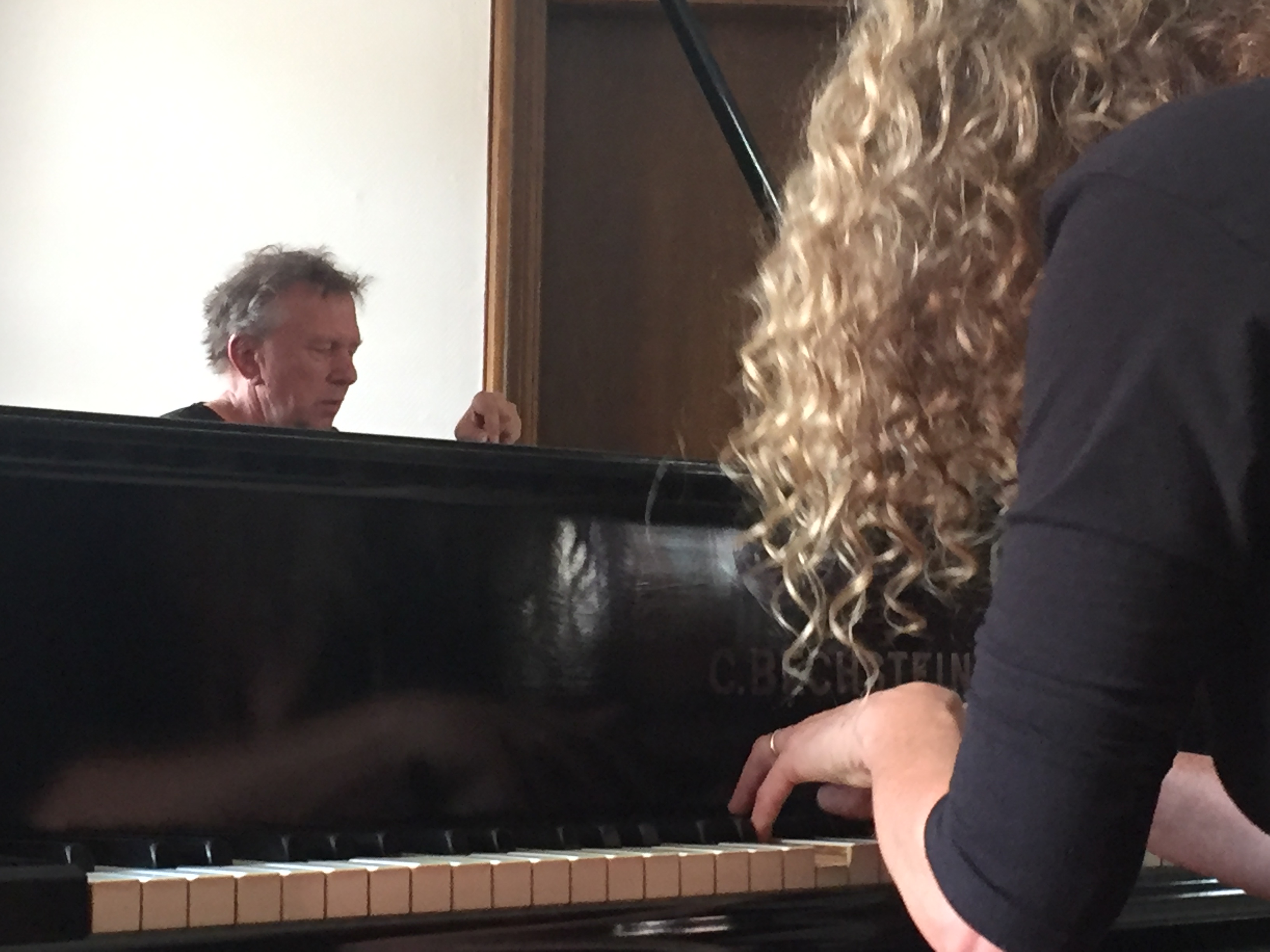 Julie Sassoon- Willi Kellers        (Photo: Paul G Smyth)
Jazzwerkstatt 55, Peitz, Germany 8-10 June 2018
Oliver Weindling writes:
Having had a wonderful 2 day festival from Jazzwerkstatt at the Vortex last November, it was great to be able to return to hear some of the added breadth that the label/workshop continues to arrange in its 'home town'.
The Jazzwerkstatt Festival continues to build on the history of its festival started in Peitz  in communist East Germany, about 70 miles South of Berlin, 40 years ago and its more recent positive evolution. As a live promoter, now in towns ranging from Berlin through to Bochum (via Hamburg Elbphilharonie), has a strong resonance as this is where it all started in the mid Seventies. Meanwhile the label expands by leaps and bounds. And it is worth noting that many of the groups that performed at the festival have releases on the Jazzwerkstatt label.
The programme veers towards the freer, more contemporary end of jazz, generally with a strong European slant. This year, the special 'bill toppers' were, on the first day, Alexander von Schlippenbach and the Globe Unity Orchestra, and, on the second, Roscoe Mitchell leading the Art Ensemble of Chicago.
Schlippenbach himself is now 80 and recently received the highest civilian decoration in Germany. His brief solo set alone proved that he is still mesmerising, captivating and innovative. In a series of short vignettes, he filtered a number of musical styles and seemed to show how they are closely linked – Debussy-like impressionism, avant-garde modernism, blues and boogie woogie.
This was followed by the full Globe Unity Orchestra, whose members seemed to revel in the atmosphere of the church used as the main venue for the festival. Some of the earliest members of the Orchestra were heard, such as trumpeter Manfred Schoof, Evan Parker on soprano saxophone and drummers Paul Lovens and Paul Lytton. Overseeing a situation that could have been anarchy, Schlippenbach left it to the 17 musicians to develop from within: solos emerged by each member and a series of organic interactions. Certain took more of a lead than others, such as bass clarinettist Rudi Mahall and trombonist Wolter Wierbos. Compared to their performance at the Berlin Jazz Festival 2 years ago, it felt more joyous (recently issued on the Intakt), though the space for them all to fit was much more cramped. While it was good to see a group like this renew itself with younger musicians, the biggest surprise was that the group still had no female members, even though there now are several who could have fitted into this approach.
Immediately following, we had a more relaxed and melodic set by trombonist Nils Wogram, hot-footing it from the church where he was part of the Globe Unity, with guitarist Joe Sachse. Blues and more. Wogram is a player with a mind-blowing technique, taking pleasure in interplay with Sachse.
The first night ended with a solo performance by Evan Parker in the hall of the town's castle. It was the perfect place for him to respond to the reverberant acoustic with his soprano. His signature multiphonics came over gorgeously, though he ended with a plangent interpretation of Monk, proving that he is a great melodic player as well as a technician.
The second day was bookended with line-ups involving two musicians who left London a decade ago: pianist Julie Sassoon and trumpeter Tom Arthurs.
It is fascinating to hear how their approach to the music has evolved over that time, with both playing in much more open sounding line-ups than we became use to. Julie Sassoon is now performing in a duo with Willi Kellers, an 'elder statesman' of the improvised scene in Berlin, known for long-standing collaborations with the likes of Peter Brötzmann and Keith Tippett. The music for their duo, performed in a packed room in the town hall in the morning, started with Kellers on mbira and light drumming, and Sassoon playing relatively sparely. But it evolved in a way that sucked in their audience. The effect on the public is similar to that achieved by the Necks. So by the end of their one hour performance, we had all travelled with them happily as our guides. An album will be released in early 2019. The intensity and interplay contrasts with her ongoing quartet, which performed at the Vortex, and also at the exquisite Elbphilharmonie in Hamburg in April.
Tom Arthurs was in a Berlin-based quartet with Canadian bassist Miles Perkin and two Finns – Markus Pesonen (guitar),and Janne Tuomi (drums and percussion). As with the Sassoon-Kellers duo, it was a totally free improvised concert in the town's malt house. It developed in an intense manner, focussing very much on sonic textures in the early stages, with the whole band playing acousticallly, apart from the electric guitar.
It was a relief that we had time to revive our energy levels after the Sassoon/Kellers over lunch, especially as there was a powerful afternoon of music. Starting with Aki Takase on piano and Louis Sclavis on bass clarinet and clarinet, it wasa performance which had a certain level of French romanticism to it as well as showing the musicians' wondrous techniques and communication. it would have been no suprise if this too would have been one of the gigs of the weekend, were it not followed by the great New York downtown sounds of Barry Altschul's trio, where the veteran drummer, showing no signs of age, was joined by saxophonist John Irabagon, no stranger to us in London, and bassist Joe Fonda. But a highlight was a solo set by Els vanderweyer, a Belgian vibraphonist 'exiled' in Berlin. She wore special gloves effectively allowing her to play with all her fingers. It created a shimmering and mesmerising effect.
The most anticipated group of the weekend was probably Roscoe Mitchell leading the Art Ensemble of Chicago. There is no need to give a detailed review as it has been covered all over the blogosphere recently. And certainly the whole performance echoed these reviews. With a desire to keep much of it acoustic, though, the balance at times could have been better, with Tomeka Reid, a stunning cellist, too often hard to hear in the mix at times.
By Sunday morning, we were getting drained from the intensity of the two days of music. The final concert was more of a  performance, with Matthias Schubert, Wolter Wierbos and Claus-Ludwig Hübsch managing to combine slapstick and a very mobile performance with open improvisation and more musically structured elements. It was appropriately in an open air bar/restaurant area, where the audience could relax and unwind after the musical intensity and energy of the previous two days.
The programme for next year's festival is already on their web site. But look out for other dates, such as a piano day in Hamburg in September.
www.jazzwerkstatt.eu