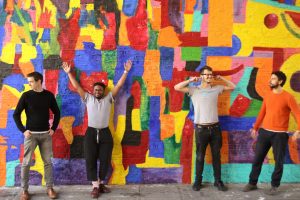 Gboyega Odubanjo (1997-2023) and Katya Kan (1988-2023)
Poet Gboyega Odubanjo tragically died in early September 2023. He was known to us at the Vortex, through his performances downstairs and working with Raph Clarkson's group Resolute (which also included Phil Merriman and Simon Roth) and artist Aurelie Freoua. He was a force of nature – astute and perceptive, way beyond his years! 
Raph Clarkson writes:
"I first met Gboyega, known to me/us as Bo, at the Vortex Downstairs space- he was participating in a workshop around spoken word connecting with improvised music . What struck me then and every time we worked together since was the sheer musicality of his words, his voice , his artistic expression . 
"When he read there was lilting melody; hypnotic, sometimes visceral rhythm;  playfulness alongside serious and critical observations about the world ; and always a totally committed, intense passion that marked his art and the way in which he shared it . 
"After that first meeting I knew that I wanted to make music and art with Bo, and suggested that he get together with myself, Simon and Phil , my long-standing friends, colleagues and creative collaborators. I will never ever forget the first play that we had together . A winter's night, room 7 of the Premises studio in Hackney . We jammed . We jammed hard . Bo brought intensity and fire and wit and total commitment and afterwards I realised that he had inspired us to hit that rare spot as a group where we were making profound , quasi-spiritual music . Again, while Bo was known as a poet and writer, he was also unequivocally a musician, and a highly creative one at that. 
"Over the course of a year we played a series of gigs across the UK under the band name RESOLUTE, and one of these was live recorded and became a self-titled album . Across all of these experiences Bo never wavered in his total commitment to his art, and so always pushed and encouraged us to take the thrilling leap into the unknown that is group improvisation. And throughout, we shared laughter and friendship and ideas and reflections on the world and our lives. I will always treasure the fact that I had the honour of knowing and working with him."
——————-
We also pay tribute to artist and performer Katya Kan (1988-2023). She performed at the Vortex as part of the original cross-media project Resonances with Aurelie Freoua, and at the Azalea Arts nights, which took place in 2022 and 2023.