New York based guitarist Gilad Hekselman with his trio comprising Joe Martin on bass and Kush Abadey drums
Since arriving in New York in 2004 Israeli born Gilad has developed a reputation as one of the very best guitarists in New York. In just a few years he has shared the stage with some of the greatest artists on the New York City jazz scene including Chris Potter, Mark Turner, John Scofield, Anat Cohen, Ari Hoenig, Esperanza Spalding, Sam Yahel, Jeff Ballard, Gretchen Parlato, Avishai Cohen, Jeff 'Tain' Watts, Tigran Hamasyan, Aaron Parks and Greg Hutchinson.
Kush Abadey: One of the most exciting young drummers in New York, performs regularly with artists such as Terence Blanchard, David Weiss and Azar Lawrence.
Joe Martin: One of the most in demand bassists of his generation Joe Martin has played, toured and recorded with artists such as Art Farmer, Kurt Rosenwinkel, Mark Turner, Chris Potter and Brad Mehldau.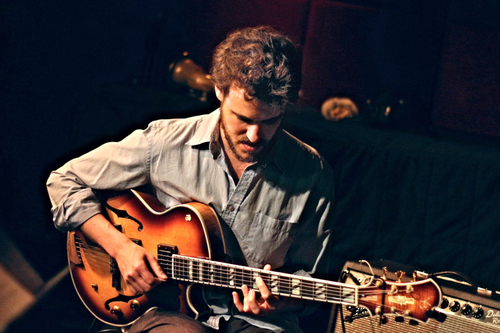 "The feeling in a small club quickly grows intense when GILAD HEKSELMAN, an Israeli jazz guitarist in his mid-20s, steps up to improvise. Since arriving in New York five years ago, Mr. Hekselman has set himself roughly up in the line of Pat Metheny and Kurt Rosenwinkel, with a warm and clean guitar tone, clear articulation, crazily extended improvisational ideas…" — Ben Ratliff, New York Times