After Slovenia, Poland, Finland and Ireland we are bringing Jazz Connective to the United Kingdom where the delegation of promoters, producers, musicians and professionals will meet again to address the new challenges arising within their practices.
The English Session will be held in Birmingham (8th – 10th March) and London (11th and 12th March) supervised by our partners Performance Birmingham Limited / Town Hall & Symphony Hall and Vortex Jazz club.
ORPHY ROBINSON & FRIENDS 
ORPHY ROBINSON (vibes & electronics)
Orphy Robinson is one of the major figures of the jazz scene – he has released records on Blue Note and played with Don Cherry, David Murray, Henry Threadgill, Courtney Pine, Jazz Warriors and Andy Shepherd.
He has composed for Film and TV- including "In answer to your question" for the Balanescu String Quartet and " 42 Shades of Black" for Phoenix Dance Theatre,which was performed at the 1996 Olympic Games in Atlanta.
Currently leads the groups CODEFIVE- NUBIAN VIBES – he also plays in the groups BRUISE and CLEAR FRAME.
PIXVAE (FR / CO)
Difficult to put a certified appellation on the Pixvae's effusions. Afro-latin core? Post-free trash? When the sound resists words, it's often a good sign. The French-Colombian combo is an intoxicating cocktail. High-pitched vocals and screaming saxophone, boosted drums and saturated guitar, Pixvae is fuelled by the energy of polyrhythms, a traditional essence going out of its usual paths this time. In the end, this experience is at the heart of our present, here and now. It's about establishing a new frontier, neither from here, nor from there, just beyond, in order to build a repertory-territory where all music has the right to clash, to challenge and penetrate each other, all the better to regenerate itself. Enter the trance!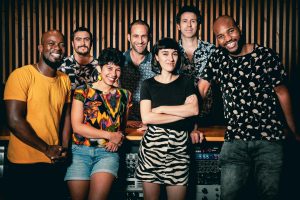 Jazz Connective project is a series of conferences, workshops and music showcases across Europe to consider issues related to artists' mobility, and various issues related to smaller venues, with regular programmes. It is a collaborative project between different European actors, built to sustainably strengthen our artistic scenes, composed of promoters and producers, musicians and professionals, by exploring these issues on a European scale. This project is supported by the European Union within the framework of Creative Europe – Cooperation Project and will take place in several stages, in several European cities.