After Slovenia, Poland, Finland and Ireland we are bringing Jazz Connective to the United Kingdom where the delegation of promoters, producers, musicians and professionals will meet again to address the new challenges arising within their practices.
The English Session will be held in Birmingham (8th – 10th March) and London (11th and 12th March) supervised by our partners Performance Birmingham Limited / Town Hall & Symphony Hall and Vortex Jazz club.
MATT JACOBSON, PERCY PURSGLOVE, CHRIS MAPP & ALICIA GARDENER-TREJO (IE / UK)
Musician-in-residence, drummer Matt Jacobson, collaborates with three musicians from Birmingham who have together been preparing through the week.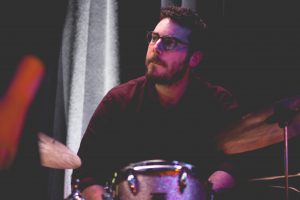 FOFOULAH (GM / UK)
The London based afro-dub ensemble Fofoulah, have followed-up their trailblazing debut album ("Fofoulah"/Glitterbeat 2014) with an even more shapeshifting and adventurous recording. Slippery sabar beats, dystopian electronics and echoing, shamanic chants ratchet up both the dub quotient and the dramatic tension.  Creating a soundworld that is both earthy and urban, futurist and rooted – the new album Daega Rek is brought into sharp focus by the rhythms and vocals of Gambian sabar drummer Kaw Secka and the vivid production of keyboardist/saxophonist Tom Challenger. From Senegal, Batch Gueye brings vocals, drumming and dance to the live show alongside Robert Plant drummer Dave Smith, Johnny Brierley on Bass, Tom Challenger on Synths, Saxophone and Phil Stevenson on Guitar and Kaw Secka's high energy talking drum playing.
Jazz Connective project is a series of conferences, workshops and music showcases across Europe to consider issues related to artists' mobility, and various issues related to smaller venues, with regular programmes. It is a collaborative project between different European actors, built to sustainably strengthen our artistic scenes, composed of promoters and producers, musicians and professionals, by exploring these issues on a European scale. This project is supported by the European Union within the framework of Creative Europe – Cooperation Project and will take place in several stages, in several European cities.