Three fantastic not to be missed gigs for one price! Limited number available.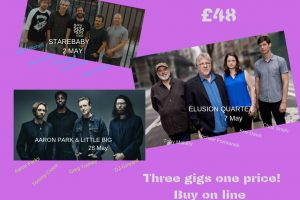 One marker of bassist Michael Formanek's creativity and versatility is the range of distinguished musicians of several generations he's worked with. While still a teenager in the 1970s he toured with drummer Tony Williams and saxophonist Joe Henderson. Starting in the '80s he played long stints with Stan Getz, Fred Hersch and Freddie Hubbard.
Formanek is also a composer and leader of various bands. One of his principal recording and international touring vehicles has been his acclaimed quartet with Tim Berne, Craig Taborn and Gerald Cleaver. His occasional groups include the 18-piece all-star Ensemble Kolossus, roping in many New York improvisers he works with. Currently his primary focus is the Michael Formanek Elusion Quartet with Tony Malaby, Kris Davis, and Ches Smith.
In putting together the Elusion Quartet, interpreting his music with these specific musicians, Michael Formanek says he sought "a more direct connection to emotions: mine, theirs and the listener's." Hank Shteamer writes in the liner notes: "As one zeroes in on the details of Time Like This, it's clear that this sort of emotional immediacy permeates the album. You hear it in Kris Davis' flowing, balletic solo on "A Fine Mess"; in Tony Malaby's ululating tenor cries on "The Soul Goodbye"; in Ches Smith's raucous grooves on "That Was Then"; or the leader's poised, sinewy lines on "Culture of None." Elusive? Certainly. But as this album proves, under the right conditions, with the right personnel, it's still out there."