SPECIAL OFFER. 15 TICKETS AT JUST £7 IF YOU BOOK ONLINE. HERE. http://www.wegottickets.com/event/308422
(Once gone, the price reverts to £10!)
Bringing a unique take to the classical piano trio, Quest Ensemble collaboratively create original work with a distinctive sound that seamlessly blends improvisation with devised composition.
With intriguing traces of Vaughn Williams, Steve Reich, and Esbjörn Svensson Trio, Quest paint a unique and evocative musical landscape filled with lyrical melodic lines, rich harmonies, and interwoven rhythmic counterpoint. For this gig Quest Ensemble – Filipe Sousa, (piano), Tara Franks (cello), and Preetha Narayanan (violin) – will present pieces from their debut album Footfall (released in May 2014) in collaboration with stunning visual artist Somang Lee with her poignant responses through live ink manipulation projected on lightbox in response to the unique sound world of their beautiful original compositions.
flux
Growing a reputation for making music that is intricate, energising and beautiful, flux have made an impressive start to their career with performances at Glastonbury, London Southbank Centre, Kings Place, The National Portrait Gallery, The Great Escape and the Indig02. The ensemble consists of Michael Goodey (piano, guitar), Preetha Narayanan, (violin, pictured below), Shammi Pithia (bansuri, piano, cajon), and Suroj Sureshbabu (guitar).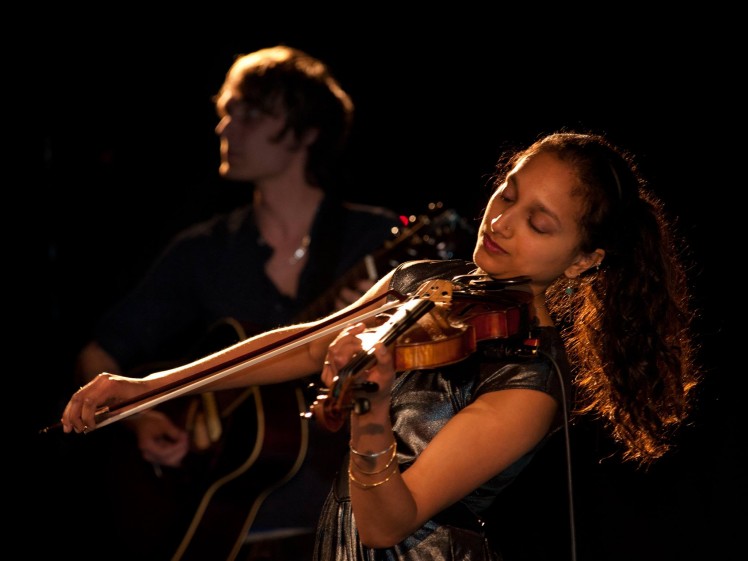 Having roots in London, India and the United States, flux create music that embodies their individual influences and shared journey, summed in their debut release Mirror (2012). The seven-track E.P. full of beauty, force, and spirit, has received great praise from the industry and their growing fan-base. Mostly instrumental with the guest vocalists, Mirror serves as an introduction to the bands sound and vision and gives listeners a taste of the magic they can expect from the album.
With a vast array of sound and their diverse arsenal of instruments, flux produce shades of modern styles found around London from Urban to Indie to Indian to European Classical, often leaving impressions of Cinematic Orchestra, Nitin Sawhney and the intricate arrangements of Radiohead.