Aurelie Freoua has become more and more engrossed in the inspiration of improvisation of musicians into her art, which, as we have seen at a number of gigs, is itself quite improvised. She has designed covers for albums by Raph Clarkson and Paulo Duarte and also been working more in theatre and poetry. She has both interpreted art but also jointly created art on perspex on stage with musicians.
She seems to look for the inner meanings and interpretation rather than being too representational. It is an intuitive use of her skills developed from studying art but also discussions with partners and others.
At the Inntöne festival in Austria this June, she did a number of exciting paintings, which have pushed her art forwards. More are available on her Flickr page here.
She returns to the Vortex on 25 August with a Resonances show. More information here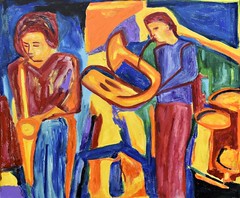 Theon Cross Trio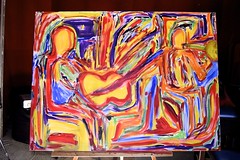 Sylvain Luc with Stephane Belmondo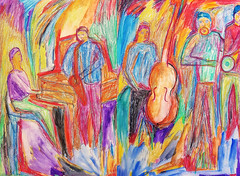 Jean Toussaint – Brother Raymond (with Byron Wallen, Denis Rollins)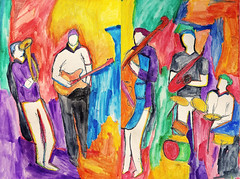 Thelonious with Steve Cardenas