Jazz is for the curious and intrepid
LIVE Vortex takes you into the intimate Vortex Jazz Club with 3 concerts filmed before an audience.  14 episodes bring you extracts from the concerts along with interviews with musicians and surprising archival excerpts of tangents and influences.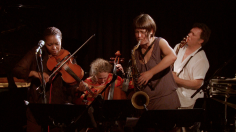 Sol6
A masterful chamber-hybrid of cabaret, punk, deep groove and free improvisation – Eric Satie, Burt Bacharach, Charles Ives, Bertolt Brecht and own compositions from the best of British and European improvisers.  Led by a pioneer of the British improv scene pianist, Veryan Weston, and Dutch bassist Luc Ex – ex of punk Nederlanders, The Ex, with Ingrid Laubrock (sax), Hannah Marshall (cello), Mandy Drummond (viola) and Mark Sanders on drums.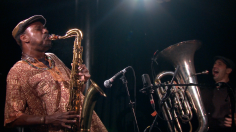 Hailing from the shadowy world of the London post-jazz scene, the incandescent Sons of Kemet are saxist/clarinetist Shabaka Hutchings, tuba virtuoso Oren Marshall, and the stunning double-drums team of Tom Skinner and Seb Rochford, powering a mix of dancefloor hooks and New Orleans street music with the percussive intricacy of west African drum music, a dose of Caribbean dub, and free jazz.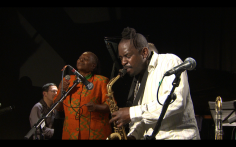 Featuring the vocalist Pinise Saul, The Comets play the searing, joyous music of saxophonist Dudu Pukwana, a towering figure in South African jazz and the European improv scene, and an exile to London, like Pinise, from the apartheid regime. With the stellar line-up of trumpeter Chris Batchelor, trombonist Harry Brown, Jason Yarde on saxophone, Adam Glasser piano, Dudley Phillips bass and Frank Tontoh, drums.
Jazz in Britain has thrived on a cross-fertilisation of genres and generations; substantially recalibrated by immigration and our proximity to Europe.   For 25 years the Vortex Jazz Club has been part of that scene, hosting musicians from all over the world playing the strange and hypnotic mix of jazz and all its hybrids.    Some of that brew appears on LIVE Vortex at The Space.
LIVE Vortex was commissioned by the Arts Council of England and BBC, for their prototype digital arts channel The Space which was launched in 2012.  The Space Mark II will return in Spring/Summer 2014