Gina Southgate – Artist Partnership

Local artist Gina Southgate transforms the look of the Vortex with her unique live jazz paintings. Our long running partnership has seen live performance painting take place at gigs, displays of her artwork on our walls, and collaborative work outdoors in Gillett Square. Click here to view some of her work in the gallery.
She tells the story below:
I cannot deny that my early relationship to jazz was uneasy. As an art student I met Paul Shearsmith, trumpet player and architect who took me to Bracknell Jazz festival in 1980 and introduced me to Trevor Watts' Amalgam and free jazz. We spent time at the London Musicians Collective where I met creative and inspiring improvisers in music and from the film co-op next door. They were heady days.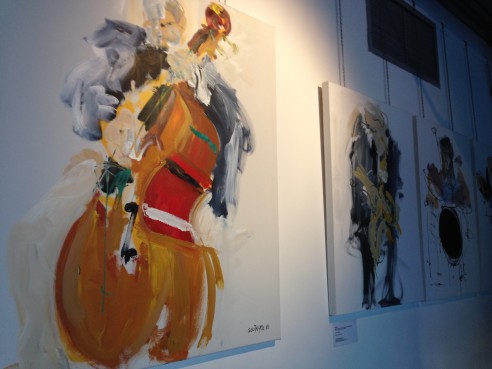 Chris Cornetto was on that scene and he liked dancing .We went to a small upstairs room at the Electric Ballroom in Camden on Friday nights to dance to the records played by a very young Gilles Peterson who filled the dance floor with people dancing to jazz. Gilles also played the WAG club in Wardour Street at this time.
At some point I dropped my prejudice to the music I was listening to and started to relate it to the music I was dancing to. It was Trevor Watts' Moiré Music that broke the final barrier for me. Infectious, up and groovy with no less complexity than some of the more difficult stuff I was going to hear. The journey properly began.
After a period travelling I wanted to move my practice from silversmithing/metalwork, which was my degree subject and subsequent profession, into something more immediate and accessible. By then I'd started to draw at gigs and had often been asked to do posters, fliers, backdrops etc. for people in the handcrafted style of the day.
Jon Dabner had opened the Jazz Cafe at Newington Green, a happening little place; I went to a gig and saw the potential to have an exhibition. I didn't have much work but I'd been drawing my good friend Rob Mills playing his sax, we'd get together once a week.  My friend had let me use her spare room as a studio. I was on my way to my first 2D show.
The exhibition opened with a raucous improv gig to a packed house, paintings sold, Gilles Peterson bought a diptych that backed the stage. It all made sense. It was 1988. By this time the Dingwalls legendary Sunday afternoon sessions were in full swing. My work and my life had united.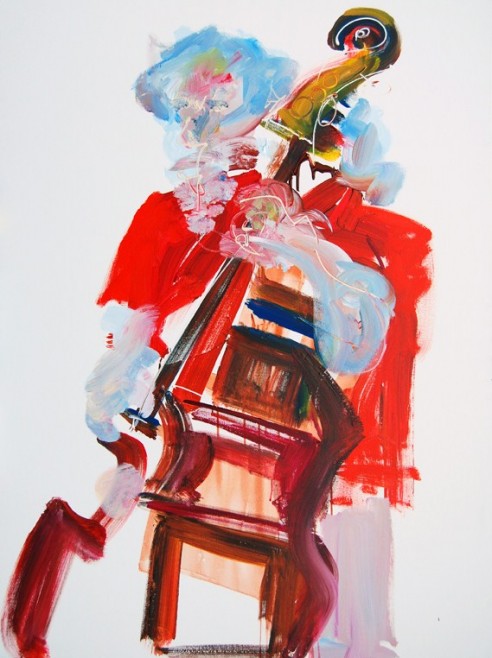 My next major exhibition was of real time gig paintings at the Tenor Clef, which along with the Bass Clef formed Peter Ind's jazz club. They nestled in unfashionable and semi derelict Hoxton Square also the home of Straight No Chaser magazine. We opened that night with Ya Basta and Maggie Nicols, Alan Wilkinson and myself doing a painting performance, it was 1992.
I began a relationship in 1991 with my life partner, saxophonist Alan Wilkinson, friends for years; he was heavily involved on the Leeds free improv scene where he'd founded the Termite club. We lived on London's improv scene. I started painting large scale, live at gigs; my first big residency was at Conway Hall for the LMC Festival. The improv scene in London mainly took place in upstairs pub rooms held together by a dedicated bunch of musicians / club runners a few that come to mind are the China Pig, Club Orange, Demolition Club and the longstanding Mopomoso. These small clubs embraced and encouraged my practice including experimental performances that I staged, enabling me to go on to paint and perform in Ronnie Scotts, The Sage Gateshead, The Royal Festival Hall and most recently Kings Place Festival.
Jez Nelson, presenter of Radio 3's Jazz on 3 has supported my work using my imagery on the Radio 3 website and around the walls of his production company Somethin' Else. He introduced me to Dave Wybrow of the Cockpit Theatre who invited me to paint at the monthly Jazz in the Round; this residency is now into its third year. Young graduates play alongside stalwarts of the jazz and improv scene, to an excellent standard. Painting there broadens my repertoire and challenges my preconceptions.  In April I'm invited to exhibit a broad selection of gig work from all my UK collaborations at Jazzahead the international Jazz event in Germany.
Instrumental in my recent success is The Vortex Jazz Club. Since its move to Gillett Square I have an ongoing exhibition that exposes my work to a different audience on a nightly basis (I had an exhibition at the original Vortex in 1992). Whilst I had kids, I painted landscapes and abstracts and performed with audio visuals. Clemmie Franks chanced upon me in my studio and invited me to exhibit my work in the Vortex and take part in East Festival where I ran a painting with music workshop in conjunction with the Grand Union Orchestra.
Through this partnership with the Vortex, as well as painting their regular performers, I've created a visual input to events in Gillett square, I've produced imagery for merchandise, provided backdrops for photo shoots and filming. My paintings featured in Vortex Live on the BBC and Arts Council's The Space digital Arts platform. Using the state of the art Vortex projector my live painting has been projected into Gillett Square. Recent paintings from the Vortex have been turned into CD cover artwork.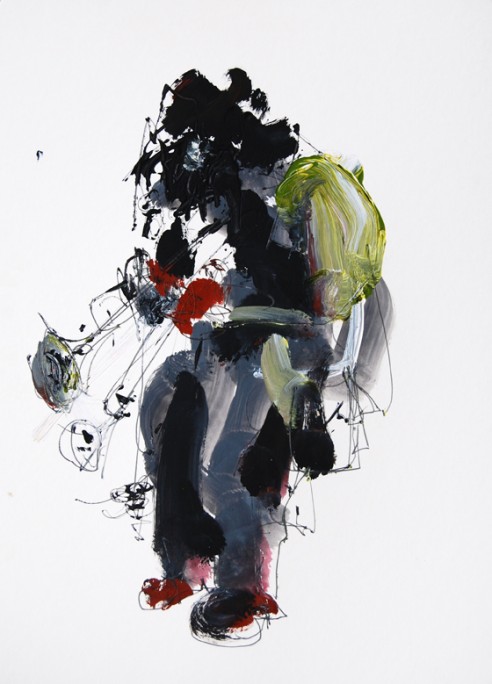 The work I exhibit at the Vortex is for sale; I have a series of live gig imagery in print and would consider putting any of my paintings into print. You can commission me to paint your event. Twenty per cent of any work I sell through the Vortex goes directly to supporting the Vortex Foundation.
During Vortex Outdoors 2012, Gina worked to capture the performances on canvas, with work also being projected onto the Vortex windows in the evening. Watch the video here.