some things present 'une, deux, trois…'
Tonight's gig features the improvising brass trio from Norfolk, Hard Edges, with a solo support set with electronics by London-based saxophonist Dee Byrne.
Hard Edges explore multiphonics, quarter-tones and drones. The group is made up of Chris Dowding (trumpet), Dave Amis (trombone) and Ben Higham (tuba). Individually, they have performed with Annie Whitehead, Keith Tippett and John Stevens. As a trio they have performed at Camouflage (a new contemporary jazz night in Norwich) and at Hundred Years Gallery.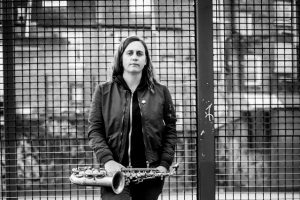 Dee Byrne is the London-based saxophonist who performs regularly with her quintet Entropi, and with the electronic duo Deemer, as well as performing with ensembles such as Cath Roberts' Favourite Animals.
Come along for an early evening gig of improvised music…
(photo of Dee Byrne by Carl Hyde)