Re-watch Renell Shaw's highly successful and inspiring compositions the Windrush Suite and Echo in the Bones, a new body of work by composer and arranger Renell Shaw, supported by the PRS for Music Foundation and the Arts Council England in association with The Vortex Jazz Club/The Shape of Jazz to Come.
THE WINDRUSH SUITE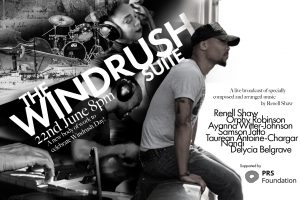 The four suite pieces are inspired by the men, women and children, who latterly became known as the 'Windrush Generation'. The music pays homage to the complex origins of the people: Their lives 'away'.  Their longings, loves, disappointments, and will to survive. Being at home but not home. We celebrate the contributions of this vibrant community to the cultural and social life of Britain. The rich diasporic musical traditions of the Caribbean finds a contemporary expression in the work, as well as a new home in a new melting pot of bubbling creativity. The Windrush Suite, available to buy on the Vortex on Bandcamp
Line-up:
Renell Shaw (Compositions and Arrangements, Piano, Guitar, Bass, Percussion, Vocals)
Orphy Robinson MBE (Vibes, Marimba)
Ayanna Witter-Johnson (Cello)
Samson Jatto (Drums)
Taurean Antoine-Chagar (Saxophones)
Nandi (Lead vocals)
Delycia Belgrave (Vocals, tap dancing)
Dave Holland (Introduction to the event)
Kevin Le Gendre (commentary)
Coco Shaw (Film visuals and editing)
Kathianne Hingwan (Artistic producer for the project)
ECHO IN THE BONES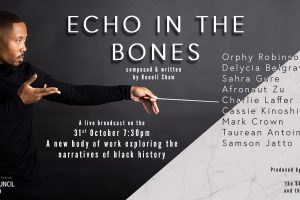 'Echo In the Bones' is the follow up to 'The Windrush Suite'. This body of work explores the cultural and psychological impact of colonialism (aka slavery) within the triangular trade and how the prejudice that came with it has allowed people to get away with human rights violations from the 16th century to 2020. Music was one joy the dispossessed slaves carried with them wherever they went. Over time, scattered across the Americas & the Caribbean, and Europe, the music morphed in the echo chamber of that new continent with sounds bouncing back and forth to the original continent often remade with different harmonies and styles.
Buy the track This Mind Knows on Bandcamp
Line-up:
Renell Shaw (Composition, Vocals, Bass, Fender Rhodes)
Orphy Robinson MBE (Vibraphone, Marimba and Percussion)
Cassie Kinoshi (Saxophone)
Delycia Belgrave (Tap Dancing, Vocals)
Sahra Gure (Vocals)
Afronaut Zu (Vocals)
Charlie Laffer (Guitar)
Mark Crown (Trumpet)
Taurean Antoine-Chagar (Saxophone)
Samson Jatto (Drums)
Coco Shaw (Film footage and visuals)
Kathianne Hingwan (Producer)