The Dancing Wall was a one-off performance in Shoreditch, based from Aurelie Freoua's mural Misterioso which is gracing a wall on Dereham Place. This was the chance for a first collaboration with a dancer, Jessica Barlow, as well as a range of new musicians.
The story, to the extent there is one, is that the dancer is neurotically and energetically performing in front of the wall. She is dressed in white. Gradually she is painted, as Aurelie and Ley Loosh, appear, having started disguised within the wall through the combination of their costumes and face paint. As she is welcomed by the wall, her dancing becomes more relaxed and lyrical, so that, by the end, she is at ease. All the while, musicians improvise and interact with the artists and dancer. All had the space and energy to develop in unexpected directions. For example, in that Jessica was not only painted by Aurelie and Ley, but at one stage even welcomed a young member of the audience to paint her too.
It extends from Aurelie's work together with music on Resonances at the Vortex last year by adding dance to her mélange of music and art. Her art and approach fit well with musicians and dancers – there is a lot of improvising in the way that she develops her art and interaction; but also a lot of depth, in that she is actually articulating concepts such as infinity, extended universes in her attitude to art.
Further shows are hoped for, during the next year.
Jessica Nina Barlow (dancer) Aurelie Freoua (artist and creative director), Ley Loosh (artist) Tolga Tres Çokdeğer (percussion) Jomy Jomert (keyboards) Thibault Chavanis (guitar) Christopher Williams (alto) to have made it happen on the day. Elisa Nader helped with the costumes.
Aurelie is currently providing artwork for Raph Clarkson's Resolute album. Some of the photos were taken at the mural and will be included on the album cover and publicity.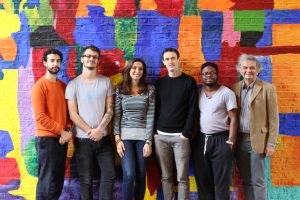 Unfortunately, the wall has now been painted over. However, it is anticipated that Aurelie will paint a new one nearby by early 2019. You can see more of her work on Instagram @aurelie_art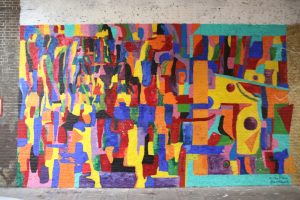 Aurelie had collaborated with musicians including Raph and Chris Williams creating and improvising mutually a few weeks before at the venue Acqua7 in Dalston, where she had a solo show.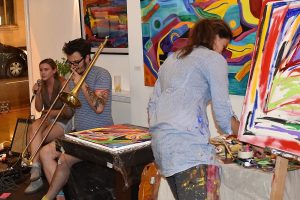 If you have any interest in either a version of Resonances or The Dancing Wall for your venue/gallery, contact Aurelie.