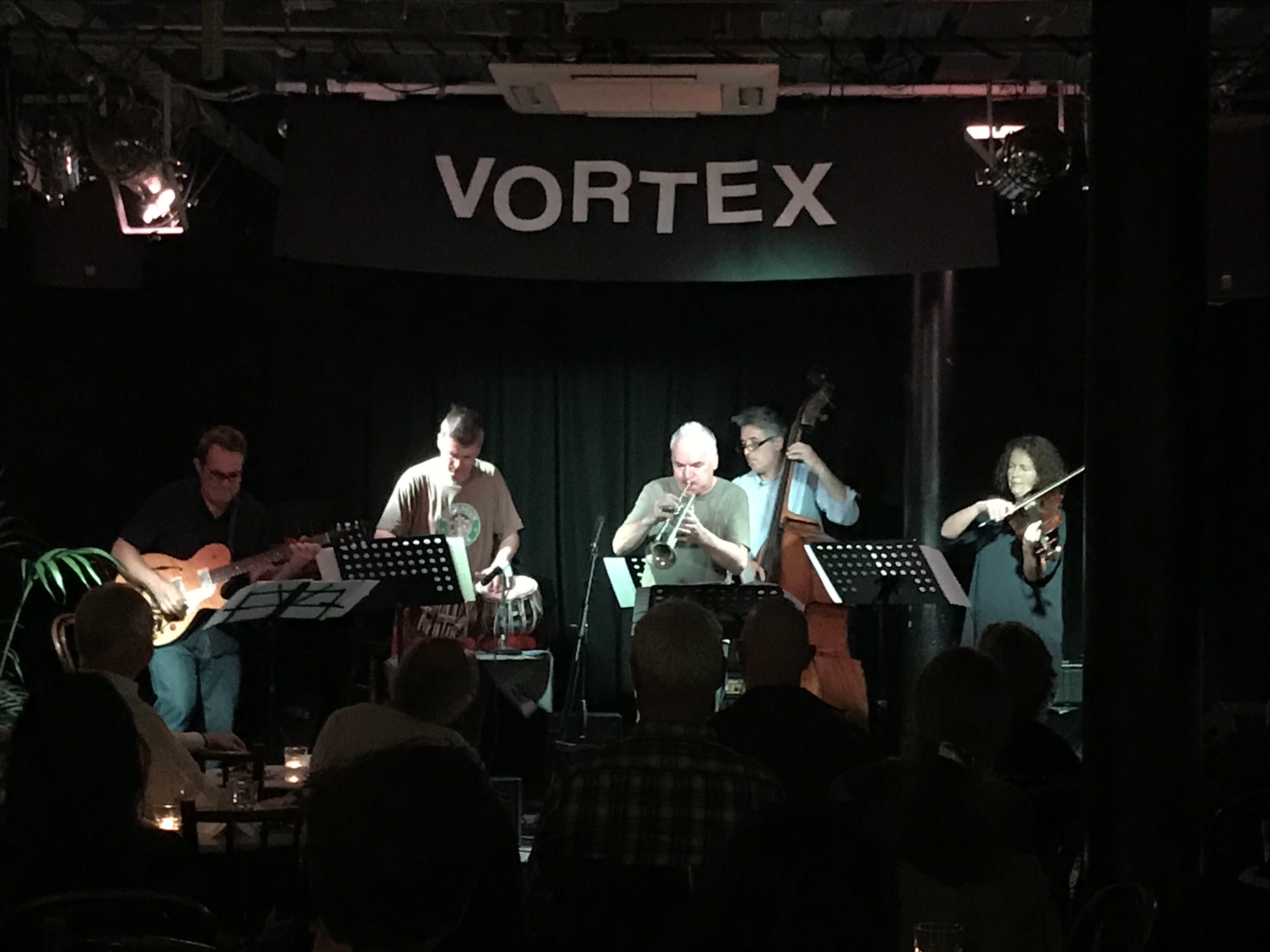 Over the years, the Vortex has encouraged and enjoyed many groups which balance wit and joy with subtlety and complexity. Township Comets, the celebration of Dudu Pukwana led by Chris Batchelor and Adam Glasser, Orquestra Mahatma, Pigfoot and the Hermetologists, to name but a few.
They overlap in terms of personnel, perhaps unsurprisingly as they come from a generation of musicians in this country who balance respect for musical heritage with an ability to think obliquely. So here we had Paul Clarvis from Orquestra Mahatma and Chris Batchelor who also started Pigfoot.
Indeed, it could be thought of as a group which has echoes of being a more acoustic version of Pigfoot. Chris and Paul were supplemented by some soul mates – Steve Watts, rock-like on the bass, John Parricelli, adding colour, harmony and countermelody on guitar (often at the same time), and Margrit Hasler on viola. The last is frequently thought of as the cinderella of the string section. Margrit proved that the instrument can outshine in taking advantage of its mellowness.
There was ample space in the arrangements to allow the musicians the chance to shine, or, as John pointed out, to fall flat on their faces. Of course, it was usually the former. In a repertoire that extended from originals through to Brazilian pieces by Edu Lobo which were performed in arrangements that would have done Hermeto Pascoal proud.
Long may this band continue.
We now look forward to another of this era for the second night of the London Jazz Festival on 17 November. PERFECT HOUSEPLANTS. And it's perhaps unsurprising that Mark Lockheart was sitting beaming in the audience throughout the evening.