Album launch
Album launches are special – the chance to celebrate a new release with friends and music lovers.
Thu 18 January 2024
Thu 25 January 2024
Fri 26 January 2024
Thu 22 February 2024
Fri 23 February 2024
Wed 06 December 2023
Mon 30 October 2023
Thu 26 October 2023
Thu 31 August 2023
Fri 25 August 2023
Wed 19 July 2023
Sat 10 June 2023
Tue 04 April 2023
Fri 14 October 2022
Sat 01 October 2022
Tue 18 January 2022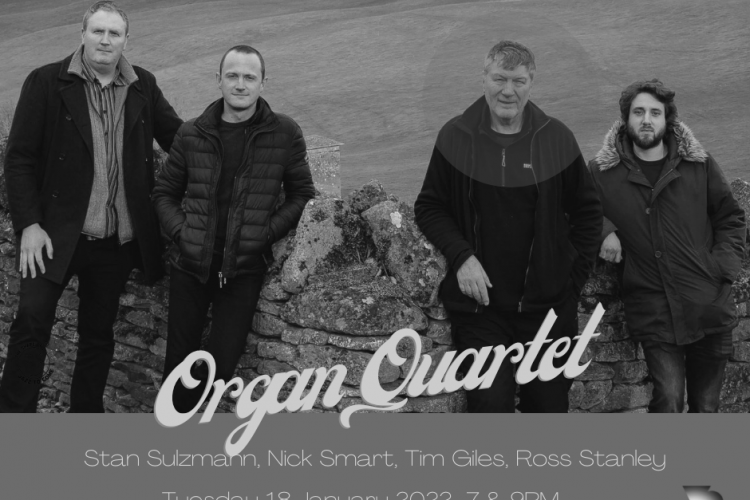 Stan Sulzmann's Organ Quartet – Shadow Painting (second show)
Shadow Painting is a collaboration between these four incredible musicians. The result is an album of real musical beauty that is both vibrant and delicate. Stan's hallmark robust yet lyrical sound is complimented by Ross Stanley's expressive Hammond accompaniment which often shimmers and swirls underneath the surface while Tim Giles' tasteful bustling grooves give the group real momentum. There are eight originals by Stan and a wonderful interpretation of Dizzy Gillespie's Con Alma which is turned into a waltz with a nod to Stan's great friend the pianist John Taylor. The album is due for release 21 January. 
Fri 01 October 2021
Sat 24 October 2020
Sat 07 March 2020
Tue 03 March 2020
Tue 18 February 2020
Wed 12 February 2020
Fri 07 February 2020
Thu 09 January 2020
Sat 14 December 2019
Sun 08 December 2019
Mon 02 December 2019
Wed 16 October 2019
Thu 26 September 2019
Wed 25 September 2019
Mon 16 September 2019
Tue 10 September 2019
Wed 28 August 2019
Wed 21 August 2019
Tue 13 August 2019
Tue 18 June 2019
Thu 13 June 2019
Thu 16 May 2019
Wed 15 May 2019
Fri 10 May 2019
Sun 28 April 2019
Fri 08 February 2019
Wed 12 December 2018
Wed 05 December 2018
Tue 04 December 2018
Sun 25 November 2018
Wed 04 July 2018
Sat 23 June 2018
Wed 20 June 2018
Sun 17 June 2018
Fri 15 June 2018
Wed 06 June 2018
Tue 05 June 2018
Wed 28 March 2018
Tue 27 March 2018
Thu 08 March 2018
Sat 03 March 2018
Fri 23 February 2018
Thu 22 February 2018
Wed 21 February 2018
Sat 20 January 2018
Thu 04 January 2018
Sat 02 December 2017
Wed 25 October 2017
Tue 24 October 2017
Fri 20 October 2017
Thu 19 October 2017
Sun 08 October 2017
Fri 15 September 2017
Thu 17 August 2017
Wed 16 August 2017
Sun 16 July 2017
Tue 04 July 2017
Sat 24 June 2017
Wed 14 June 2017
Fri 19 May 2017
Fri 12 May 2017
Sat 18 March 2017
Sun 26 February 2017
Sun 12 February 2017
Wed 01 February 2017
Mon 30 January 2017
Wed 07 December 2016
Sun 20 November 2016
Sat 15 October 2016
Fri 14 October 2016
Thu 13 October 2016
Thu 22 September 2016
Thu 08 September 2016
Wed 03 August 2016
Mon 01 August 2016
Mon 18 July 2016
Wed 06 July 2016
Thu 30 June 2016